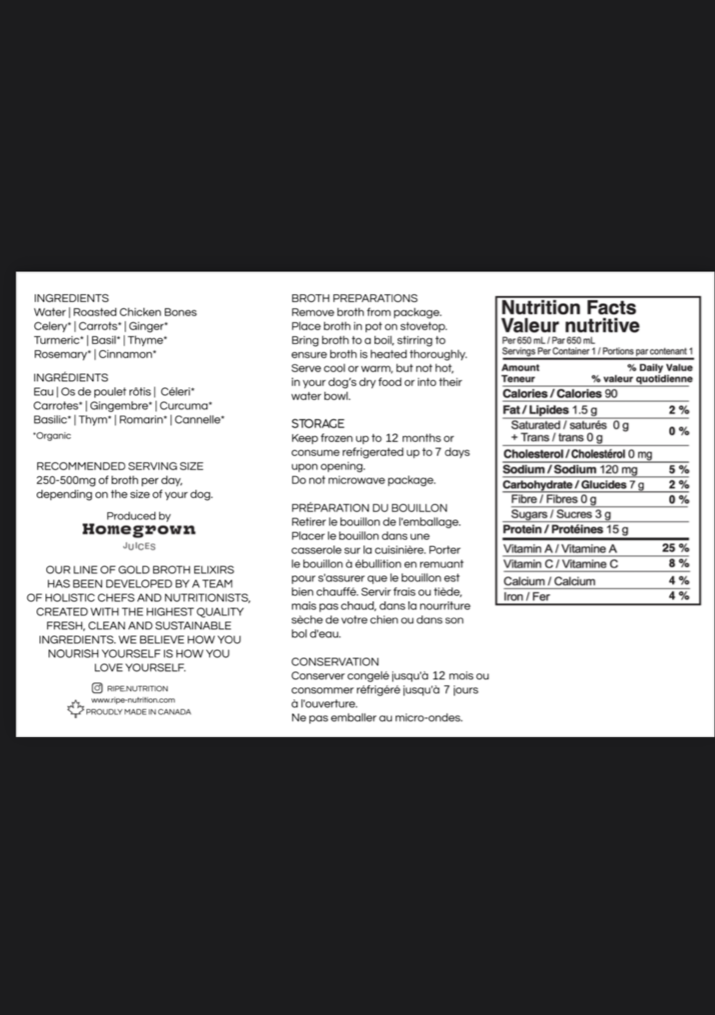 IMPORTANT:  Due to the Summer Months and Current Heat Wave, we would be happy to send you our Shelf-Stable Products if you have concerns regarding the condition of your delivery upon arrival. You can find our shelf-stable products on our website.
ALL FROZEN OR REFRIGERATED PRODUCTS CAN ONLY BE SHIPPED LOCALLY (GTA ONLY). For any orders outside of the GTA, we are happy to send you our shelf stable products.

BARK BROTH ORGANIC BROTH FOR DOGS (650 ML) ✨
Introducing Bark Broth for your furry friend 🦴
Looking for a way to add some extra nutrition and health benefits to your dog's diet in the best way possible? Pet parents can give their dog a healthy bone broth as a nutrient-packed, delicious addition to a meal or all on its own. 
Bark broth for dogs helps to promote a healthy gut, liver detoxification, joint health, and hydration, all while providing a plethora of vitamins, minerals, and other important nutrients.
BENEFITS
Joint rejuvenation

Healthy gut

Digestion support

Enhanced hydration 

💦

Skin & coat health

Increased appetite (due to a healthy, optimally-functioning gut)

They think that it's a treat!

It makes them finish all of their dry food or kibble

They absolutely love it 

✨

Remember

not to feed our human RIPE broths to your dog as our broths contain onions, garlic and salt which isn't good for your dogs!
INGREDIENTS & DETAILS🌿
ROASTED ORGANIC CHICKEN BONES | ORGANIC CELERY | ORGANIC CARROT | ORGANIC GINGER | ORGANIC TURMERIC | ORGANIC BASIL | ORGANIC THYME | ORGANIC ROSEMARY | ORGANIC CINNAMON STICK
Absolutely: No onions, no garlic + no salt!
STORAGE
This broth can be kept in the freezer for up to one year and kept in the fridge for one week.